The SPECIAL MIRROR is the basic towing mirror of the Magnetall production.
The Special Mirror towing mirror is well suited to most of the less recent car mirrors that are more squared and have more regular shapes than modern ones.
It is easily installed on almost all types of car rearview mirrors.

It made by excellent materials that guarantee high resistance to stresses and shocks while ensuring low vibration, great functionality and wide visibility.

It is easily adjustable from inside the car: it can rotate horizontally and vertically, backwards and forwards; when the Special mirror is not in use, you can quickly remove only the arm with the mirror and leaving fix the climbing system for later uses.
The SPECIAL MIRROR towing mirror is supplied in kit with left and right mirror.
The mirror can be mounted both above and below the car mirror: it is usually installed above.
i
ts large dimensions allow a wide back-vision.
The mirror cup can be rotated 360 ° and it can be tilted backward and forward, right and left, even confortably seated on the driver's seat, for better adjustment. The cup is hooked on the arm which can be also adjusted: the arm can be set
inwards or outwards
by pulling it out and then fixing it in the best personal position.
The cup is also available in bright red for greater safety and visibility.
-
The MIRRORS are available either normal white or light-blue for anti-reflective treatment. Both the white mirrors and the light-blue mirrors are then available as plane (that actually reproduce the dimensions), or convex that show a wider view.
The choice between the 4 available combinations is only personal preference and comfort.
The model Special Mirror then evolved in BOOMER S model to better adapt to more shaped car mirrors.
ACCESSORIES
FOR FURTHER INFORMATION, PLASE VIST THE SPECIFIC PAGES
Very useful accessory for all situations where the width of the caravan is greater than the car, essential when the caravan is at least 45cm wider than the car.
Special accessory designed to give even greater stability and further reduction of vibrations to the towing mirror arm by fast hooking it to the car door with a powerful magnet.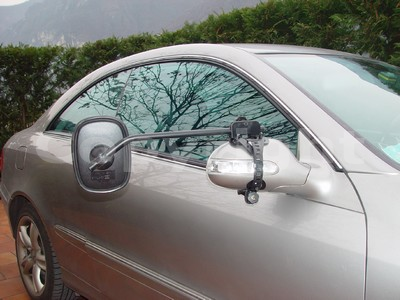 Magnetic support for towing mirror